HALLOWEEN at Caramba - Finchley


October 29 (Tuesday) at 7:30 pm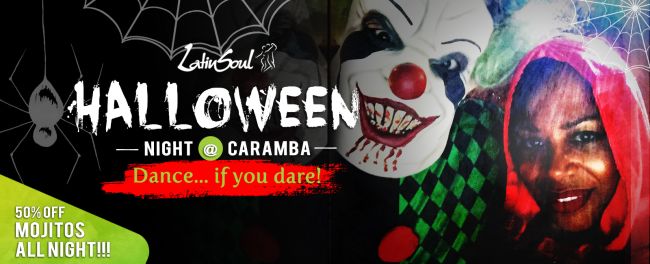 When witches go riding
And black cats are seen,
The moon laughs and whispers,
'tis near Halloween
CARAMBA has been haunted, enter to find spooky characters tap and dance to gruesome Latin beats.
El dia de los muertos bring you classes, amazing cocktails and social dancing that will make your heart stop.
Please go easy on the blood and makeup. we want it to be sexy not gruesome…
Times
7:20pm - Doors open
7:30pm - Bachata (Beg/Improvers/Inter)
8:00pm - Salsa (Beg/Imp/Inter/Adv)
9:00pm - Social Dancing

Price
£10 - classes included in ticket price

Where
Maydanoz, North Finchley, N12 9RH

Celebrating your birthday?
Why not make an evening of it and book a table at the
restaurant
before the party starts. Contact us to book on 07985748453
Please fill out the form to register:
Class Price
£10
If you have an account you can also log in here first:
Sign In